Lawmakers, To send a letter to President Bush
Jo Tae-Geun
Ruling party's lawmakers Tuesday sent a letter to US President George W. Bush to include products from the Kaesong Industrial Complex(KIC) in the KORUS FTA.
In the letter Song Young-gil, who is the member of the Special Committee on KORUS FTA said the US should not exclude products made in Kaesong considering the significant symbolic meaning of the joint business project between the two Koreas.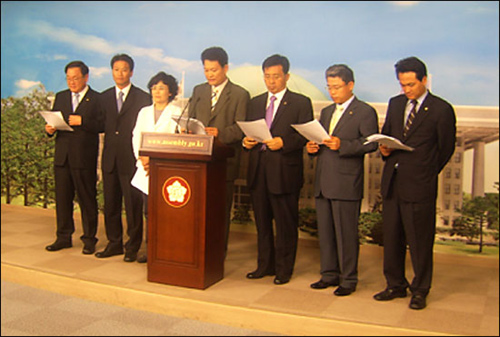 ⓒRep. Song Young-gil
Governing Uri Party Lawmakers are having a press meeting ⓒRep. Song Young-gil
'); }
The 35 lawmakers emphasized the fact that KIC's role and significance is beyond that of other industrial parks and complexes. And they also stressed the point that KIC is a safety valve and the minimum guarantee to bring peace to the Korean Peninsula.
Quoted a saying, "Put yourself in another's shoes", lawmakers said in the letter "The signification of the saying has to be revisited by both of us wanting true peace in the Korean Peninsula, far beyond economic benefits."
The following is the letter to Mr. Bush.

August 22, 2006

His Excellency, President, George W. Bush

Dear Your Excellency,

We the undersigned lawmakers politely request you to pay special attention to offshore manufacturing handled by the committee on rules of origin in the KORUS FTA, that is, treatment of products from Gaesong Industrial Complex as made in Korea, to be specific.

We find it very significant that the United States of America helped the Middle East increase exports and boost economic hope by authorizing Qualified Industrial Zones (QIZs) in Jordan and Egypt. We are of the view that Gaesong Industrial Complex is more than just an industrial complex. Its role and significance is beyond that of other industrial parks and complexes. It is a safety valve and the minimum guarantee to bring peace to the Korean Peninsula.

As is the case of the QIZ program in Jordan and Egypt, we are convinced that recognition of Gaesong products as made in Korea will not only help expedite admission of North Korea into the international economic system but also greatly contribute to alleviation of tension in the Korean Peninsula through increased interdependence of economic trade.

We are deeply concerned, however, of the possible impact of negative stance taken by your team at the first and second rounds of negotiations regarding this matter. Neither will it promote peace in the Korean Peninsula long supported by the US nor will help resolve the North Korean issue. We therefore hope that the US Senate will make an unreserved decision from a positive perspective. This, we believe, is consistent with the true spirit of the KORUS FTA to increase mutual trust, cooperation and friendship.

This reminds us of the well-known US saying, "Put yourself in another's shoes." The signification of this saying has to be revisited by both of us wanting true peace in the Korean Peninsula, far beyond economic benefits.

We sincerely wish the US will, by all means, take a forward-looking stance at the forthcoming third round of negotiations and listen to our views carefully, thus converging a variety of views based on trust.

Thank you.

Sincerely yours,
Song, Young Gil

Copyrights ⓒ 민중의소리 & vop.co.kr, 무단전재 및 재배포 금지